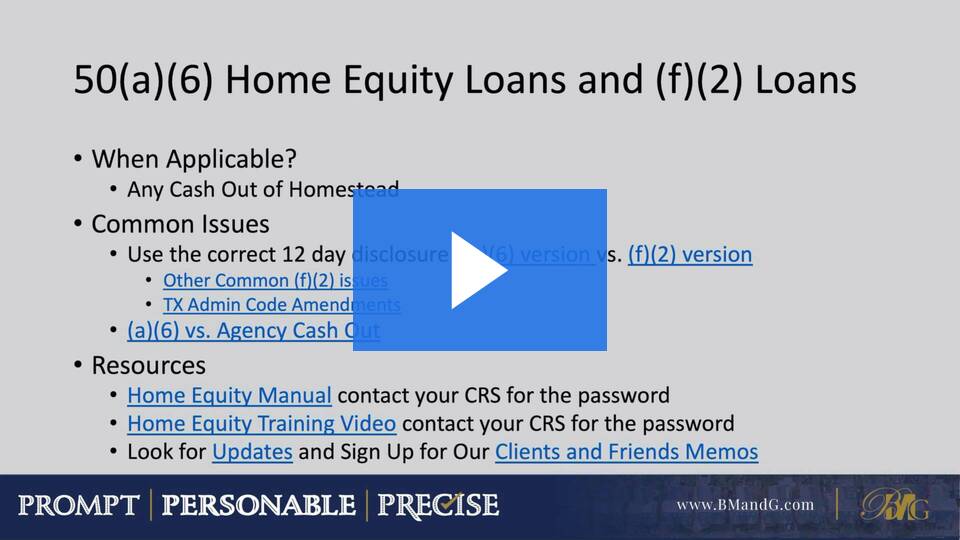 If you're new to Texas or even if you just need a refresher on the major differences in residential mortgage originations practiced in our state vs. others, you'll want to watch our latest video What Makes Texas Different. Ryan explains the Practice of Law requirement and our treatment of home equity loans on Homesteaded property, among other differentiators.
By the way, BMG wrote the book on home equity loans, so if you need a copy of the manual, please reach out to Ryan or your Client Service Representative. Also, feel free to reach out to Ryan at [email protected] if you have questions on any of the points in the video.
If you're not already doing so, be sure and check out our Resources page on the Black, Mann & Graham website for tools to stay current on rules and regulations that govern our business. If you like, you can also join our mailing list to receive our Clients and Friends memos sent directly to your inbox, for timely overviews, thoughts, and interpretations from us on relevant industry topics.
You can check out our latest Clients and Friends memo regarding proposed constitutional amendments on the ballot on November 2:
Texas Legislative Update III – Proposed Constitutional Amendments SJR35 and HJR125
---