Chances are if you've needed help on a firm- or client-related tech issue, Carlos Ochoa has come to your rescue.  The Cypress-based tech team member started at the firm in other departments before landing in his current role in January 2022.  He enjoys taking calls and fixing problems – from hardware to software and everything in between – for colleagues and clients alike.   
"I've always liked technology and acting unofficially as the tech guy in previous jobs," Carlos shared. " I'm happy to officially be on the tech team here at Black, Mann & Graham. I work with Warren here in Cypress and three other members of the tech team – including my boss James Pisanich — virtually.  I appreciate being part of this company and how much our management genuinely cares about employees."  
Carlos has a young family – his daughter Emma is 5 and son Lucas is 3 – so working from both home and the office in Fulshear has many advantages.  And his wife Samantha is a new school teacher, so being able to support her fully is a great perk of working at BMG.   
When Carlos isn't on the job, he enjoys family time and simple pleasures like taking the kids to the park and the zoo – and hanging out with other families.  Carlos is an avid pro football (Go, Texans!) and Real Madrid soccer fan.  
Carlos – we appreciate your great work and attitude!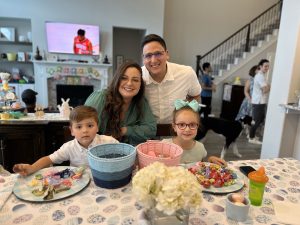 ---