Legal assistant Kelli Looney attributes her nearly 11-year tenure at BMG to the firm's culture of treating team members with respect and taking care of one another. As a member of the fulfillment team, she learned from the very start that asking questions was encouraged – and she knew she could always count on someone to provide a knowledgeable response.
A native of Mansfield who's living in Fort Worth today, Kelli started at BMG in September 2010 and is currently working under Millie Simmons. In her role, she's responsible for reviewing files, then sending them to clients with a checklist of needs to complete the closing package. As part of her scope of work, she also approves closing disclosures to ensure each client's customers are cleared for closing.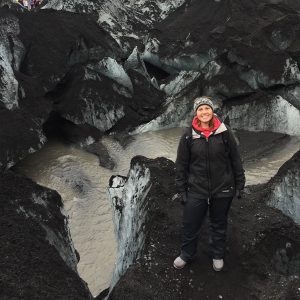 "Growing up, my parents instilled in me the importance of hard work and being kind to others, at work and in life," she says. "They also told me to hold my head high and be proud of my work. I think that's been important in my career at Black, Mann & Graham, and I appreciate our leaders' recognition of my contributions."
When she's not working, Kelli loves to read and travel. She took her last trip before the pandemic hit, and has an October vacation planned in Southern California to visit college friends she made while studying for her B.S. in Business Administration at Pepperdine University in Malibu. Kelli also is eager to get back to Europe (Rome is a favorite destination!) and Iceland. She's pictured here at Solheimajokull Glacier, Iceland.
Thank you for your commitment and many contributions to our team, Kelli!
---
Up next: Client Endorsement: JMAC Lending