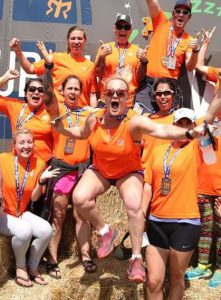 Keeping up with Rachelle Bennett-Rowan is a challenge for the fittest among us.  She's a global adventurer (ask her about her off-the-beaten path treks to the Philippines), CrossFit enthusiast, busy mom and workout partner to 13-year old Zane – when she's not focused on customers as a BM&G account executive in Austin.  For Rachelle, being active helps her stay ahead of the game, and it's key to her success with us.
Perhaps it's no surprise that Rachelle has an incredible work ethic, starting in high school when she parlayed a work experience into a full-time job once she graduated.  She's never looked back, and when she joined us a decade ago, Rachelle already had more than 20 years of industry experience, including ten years in sales.
So, what's the secret to Rachelle's success?  She will tell you that it's due to her client relationships built on honesty, trust and reliability. She also adds that none of that is possible without the BM&G operations team who delivers the same value to her every single day.  Having once been a BM&G client herself, Rachelle knows what it takes to foster a relationship, and is proud that a number of long-term customers followed her to our firm today.  Rachelle keeps up with clients and prospects through her involvement in industry associations where she donates her time.  She's also likely to pop up at some of the leading national trade gatherings and conferences.
When asked about life at BM&G, Rachelle states, "I just love my company.  There is no bigger honor than to work here.  Being at Black, Mann & Graham allows me to work hard, play hard and be a present and good mom to Zane."  Rachelle, we're glad you're part of the team, and thank you for your great work on behalf of our clients!