We're proud to share that our affiliated title company, Stewart Title – Shawn P. Black & Associates, L.L.P., was voted this year's Best Title Company in Denton County!
Congratulations to the entire team! Pictured below (L-R): Shawn Black, Joni Trent, Stacy Stoltz, Stephanie Skinner, Tiffany Wendt, Amanda Crabb and Jessica Basham.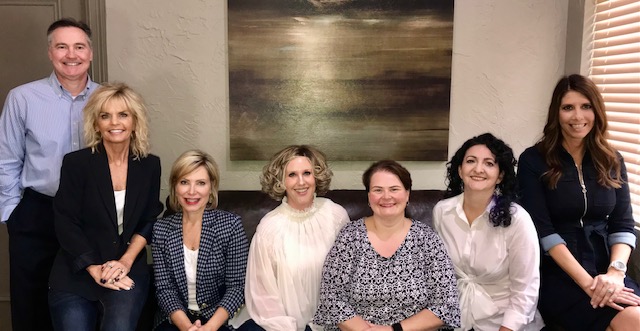 Read all about their recognition in the news release below.
---
FLOWER MOUND, TX – Black, Mann & Graham, L.L.P., an industry leader in preparing loan documents, is proud to announce that its affiliated title company, Stewart Title-Shawn P. Black & Associates, L.L.P., has been voted this year's Best Title Company in Denton County.  Murray Media Group sponsors the Best of Denton County Awards annually.
"I'm extremely proud of this hard-working team, and know that being recognized as the best title company in Denton County reflects their commitment to excellence in customer service," said Shawn P. Black, Fee Attorney.  "Since our founding, our team has been dedicated to developing relationships with our clients and our Denton County community through volunteerism and support for local businesses, our neighbors in need, and our industry.  To maintain their standard of quality service, especially in a record-setting year for our business, is remarkable."
As a fee attorney office for Stewart Title since 2004, in addition to Shawn P. Black, the office is composed of three escrow officers, two escrow assistants, and one business development director with 77 years of combined experience:
Jessica Basham, Office Manager and Escrow Officer
Stephanie Skinner, Escrow Officer
Joni Trent, Escrow Officer
Amanda Crabb, Escrow Assistant
Tiffany Wendt, Escrow Assistant
Stacy Stoltz, Business Development Director
Stewart Title-Shawn P. Black & Associates is heavily involved in the Denton County business and nonprofit community through its support of the Greater Lewisville Association of Realtors' (GLAR) back-to-school Stuff the Bus campaign, as well as holiday toy drives for Christian Community Action in conjunction with Black, Mann & Graham.  The title company also provides pro bono title and settlement services for real estate closings for Habitat for Humanity of Denton County.
In addition, team members serve on the PediPlace and GLAR boards and have membership in the Flower Mound Chamber of Commerce, Chamber Ambassadors and Cross Timbers Rotary Club.
About Black, Mann & Graham
Black, Mann & Graham, L.L.P. was formed in 2000 to represent mortgage lenders throughout the United States.  Since then, the firm has become an industry leader in the preparation of loan documents, regulatory compliance matters, and loan fulfillment services. With more than 200 team members reporting to offices in Flower Mound, Dallas, and Houston, our clients include some 350 mortgage bankers, mortgage brokers, banking associates, thrift institutions, and credit unions.  The firm actively supports industry organizations that promote diversity and inclusion, including the National Association of Hispanic Real Estate Professionals (NAHREP), the National Association of Minority Mortgage Bankers of America (NAMMBA), and Women's Business Enterprise National Council (WBENC).
Additional information about the firm may be found by visiting our website and by following us on LinkedIn and Facebook.