Ten-year BM&G veteran Salma Bhegani considers her teammates in the firm's Houston office her second family. Family is everything to Salma, and she and her husband are proud parents to three grown children and new grandson Salman (pictured here with Salma) who is their pride and joy.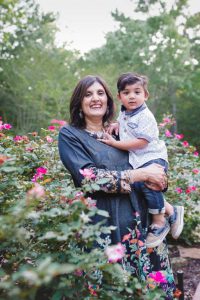 Salma, who's a 25-year veteran of the mortgage lending industry, works in the office's fulfillment department and came to BM&G from a lender that partnered with BM&G for their doc prep work. She loved working with our team and joined us when the opportunity presented itself a decade ago.
"I was thrilled to join Black, Mann & Graham," Salma says. "I love it here and feel very much at home. Everyone is so wonderful, and we truly care for one another and treat our customers like family. Tom and Calvin have set a great example for us, and I look forward to coming to work each day."
Salma has an incredible life story. Born in Uganda, she immigrated with her family to Holland some years ago as a refugee. In Holland, she met her American husband, who also was a Ugandan refugee, before they settled in the United States – first in Iowa, and later, in Texas (It's warmer here, after all!). Salma feels privileged to call Houston home, and she and her family are active in the community, volunteering at a local women's shelter and helping raise funds to provide food and other necessities for school children in Nairobi, Kenya.
I hope you'll have a chance to meet or work with Salma someday. She is a delightful member of our team, and we're so happy to have here with us.