We're shining the spotlight on a team member many know well:  our Flower Mound Operations Manager Donna Hestand. Donna's been with us 20 years and has an in-depth background in loan servicing, funding, insuring, closing and management. Since the day she arrived to help us get our document preparation operation up and running, we've benefited from Donna's 40+ years of mortgage banking experience.
"When I came in the door, Tom told me the best way Black, Mann & Graham can stand out from our competitors is to provide the very best customer service," Donna says. "We treat our clients the way we'd like to be treated, and that brings me lots of satisfaction. I know there are other good companies in our business, but I believe we work harder and go above and beyond to exceed our customers' expectations."
Donna says the firm's culture of treating each other and our customers like family is key to her longevity with us, and she believes it's rubbed off on the whole team. In fact, of the 36 employees in the Flower Mound office today, half have been at the firm for 10 years or more.
When she's not with her work family, Donna, who was an only child, loves spending time with her cousin Brenda who's like a sister to her. The added benefit has been spending vacation and holidays with Brenda's family, including sons Blake and Jonathan, and their children Harper, Jake, Aubree, Molly and Laney – who range in age from 5 to 10. Pictured here are Donna and the gang on a recent trip to Galveston.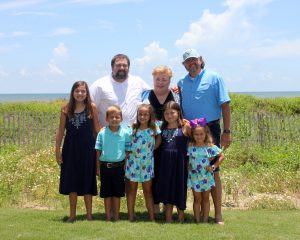 If you haven't had an opportunity to work with Donna, we hope that you'll have one soon. She is an incredible asset to us at Black, Mann & Graham.