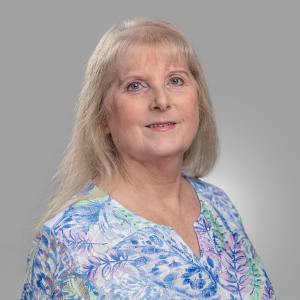 For the dog lovers among us, here's a heartwarming story about Sandra Lewis who works in our Dallas office. In January, Sandra started seeing social media posts from Lucky Lab Rescue and Adoption about a month after she'd lost her beloved dog Katie. She tried to delete the posts, but they kept popping back in her feed. Not ready to be a full-time dog mom again, she applied to be a foster mom. Once she was approved to foster, she quickly puppy-proofed her house, then got a call to take two dogs while Lucky Lab looked for their forever homes.
Sandra picked up her two sweet foster pups — black and white-speckled Gemma and tan and black Willow who made her laugh with their crazy antics. Well, you probably can guess what happened next. Sandra quickly fell in love with her girls and became their permanent mom after filling out some paperwork. She proudly calls herself a foster fail and loves to watch her seven-month-old pups play until they get sleepy and fall asleep in her arms! Sandra already has plans to foster more puppies when seven-month-old Gemma and Willow get a bit older.
If you've been thinking about fostering a pet or want to donate, there are many worthy rescue organizations that could use your support. Of course, Sandra is partial to Lucky Lab Rescue, and she calls rescuing Gemma and Willow one of the most rewarding experiences of her life.