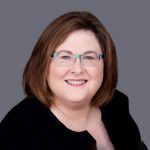 Houston-based Attorney Mitzi Noles credits her Uncle Dave (BMG attorney, David Dulock) for her love of the legal profession. After working with him as a legal assistant for a few years, he inspired her to apply to law school at South Texas College of Law. She has been an adjunct professor at her alma mater, and enjoys mentoring students while teaching real estate drafting skills.
Originally hired in 2002, she left for a few years, but missed the firm and her colleagues so she jumped at the opportunity to return to the BMG team a few years ago, reporting to Greg Graham. Mitzi works largely on construction and non-standard loans, as well as compliance and title issues, adding that she likes issues that aren't necessarily simple, but require her to 'put a puzzle together.'
When she's not working, Mitzi enjoys reading suspense novels, scouring flea markets to collect antique glass perfume bottles (she bought one for $10, which was appraised recently for $1,000), going to the theater and seeing friends. During the pandemic, she also added patio gardening — mainly flowers and house plants — to her list of hobbies.
First up when Mitzi can travel again? A trip to her favorite destination — Aruba. Thanks for all your great work, Mitzi, and for being part of our team!