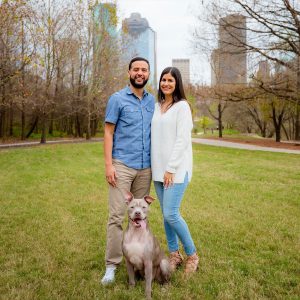 This October Houston team member José Paiz will celebrate five years with the firm where he started at the Loan Coordination Desk before being promoted to Doc Prep in a little less than a year. From the start, he was eager to learn more about our business, and took supervisor Robin Lyons's advice 'the more you know, the more valuable you are to the company' to heart.
That philosophy has served José well, as he learned more about the firm's operations, including shipping, wire transfers and MERS registrations. He believes this cross-training and his natural curiosity about processes and outcomes has been key to his early success, leading to his recent promotion to Assistant to Operations.
In his new capacity, José assists Robin with day-to-day issues, providing guidance to the Loan Coordination Desk and troubleshooting issues they encounter. He also monitors production and turn times for the team ensuring quality control and deadlines met. José also sits in on interviews with job prospects, in addition to client and monthly operations calls.
José was married a year ago to his beautiful wife Elysa (pictured here with their Pittie, Cole), and they are excited to welcome a son who's due in September. He is a Houston native, and he and his siblings are proud first-generation Americans whose parents immigrated from El Salvador.
"Black, Mann & Graham has treated me well, and I appreciate the opportunity to advance my career here," he says. "The management team sees a future for me, and I'm grateful for that. They truly go above and beyond for employees, and I appreciate that very much. I especially want to thank Robin for mentoring me and helping guide my career. She is truly a pillar of this company."
José, thanks for your dedication to your team and our clients. We appreciate you!