After 22 years with the firm, David Dulock retired at the end of 2022. There are many words to describe David: Friend. Confidante. Faithful. Brilliant. We will remember him fondly as our 'go to' source for all things legal and wish him and Alice a happy retirement full of special moments with their beloved family, lots of travel, and things they love. We are sharing a recent photo of David pictured alongside Calvin and Shawn at our Houston holiday celebration – and tributes from those who know him best: 
Calvin 
David's legacy is one of distinction by virtue of his immersion in law and regulation, resulting in scholarly advice to the firm's clientele which has proven to be a best-practices standard for the legal community. All honor to his name, it is my honor to have been associated with him for thirty-plus years. 
Diane 
David Dulock has been a mentor and friend for more than 20 years. He is an excellent attorney and I owe him a lot for his patience in teaching me how to analyze legal and regulatory issues. He always amazes me with his uncanny ability to recite verbatim a regulation that he read months earlier. David has not only been a mentor to me, but he has been a legal resource for all of the attorneys in the firm and for attorneys outside the firm as well. David is also a man with strong ethical and personal values. He exhibits those values daily by spending time each week assisting people in need who call into the St. Vincent de Paul help line. David will be greatly missed at Black, Mann & Graham LLP. I wish him well in his retirement. 
Tom 
David has been a mainstay of our team since our early days, and I will be forever grateful that Calvin and Greg recommended we hire him after working together previously. Over the years, I have marveled at David's encyclopedic knowledge of our industry. He is the consummate lawyer's lawyer – and our legal team relied on him regularly for answers on complex issues. Those in our industry highly respected David. The Finance Committee charged with interpreting Home Equity Constitutional Provisions often sought David's comments and included them in their interpretations. I cannot think of a finer compliment from his industry peers.  
There is much more to be admired about David, including his terrific wife and family, his military service, and his steadfast faith, which he espouses and lives each day. I am proud to call him a friend and wish him much happiness in his retirement. David, thank you for your legacy, friendship, and example.  
Shawn 
From our firm's beginning, Dave has expertly helped our clients safely navigate through the myriad of state and federal rules impacting residential mortgage lending. His home equity lending manual is regarded by many as the most comprehensive resource available on Texas home equity lending laws. As great of an attorney as he is, Dave is a better person. We wish Dave a long and happy retirement with his wife, Alice, their children, and their grandchildren.  
Greg 
I have never met anyone who could rise to the level of David's intelligence woven into his composed and always considerate temperament. His expertise in all real estate legal matters is always delivered with great wit, charm, and thoughtful insight. David and I have known each other since the beginning of my legal career back in 1988, and although I know we will keep in touch, he can never be replaced as an attorney or a close friend. Godspeed David in all your future journeys. 
Mitzi 
My Uncle Dave has a special place in my heart. He is one of the greatest examples of a person that I aspire to be. As anyone who knows him will tell you, his faith, family, and friends are of the utmost importance to him. His loyalty and honesty are fierce. He tirelessly helps those in need, whether they are family, friends, or strangers.  
As anyone who has worked with him will tell you, he places great importance on his loyalty to the firm and his coworkers. His loyalty and honesty extend to the firm's clients. He is crazy smart and always the first person to call if you can't find the answer to a convoluted question.  
Uncle Dave inspired me to become a lawyer. I've worked with him for most of the past 31 years and will miss being able to dial his extension for a joke or advice. Who knows where I would be now if Uncle Dave hadn't strongly urged me to get up off the couch and take a temp job proofreading legal descriptions at Shank, Tritter & Ledbetter when I moved to Houston after college in 1991. 
Ryan 
David Dulock is one of the smartest people I know. He is an authority on Texas home equity laws and has been a go-to resource for many in the mortgage industry for decades. What I envy most about Dave, however, is his faith, the love he has for his wife, Alice, and his commitment to his family. He is a true role model in the legal profession both in and outside of the office. We'll miss having him around here—and we'll even miss his corny jokes, too.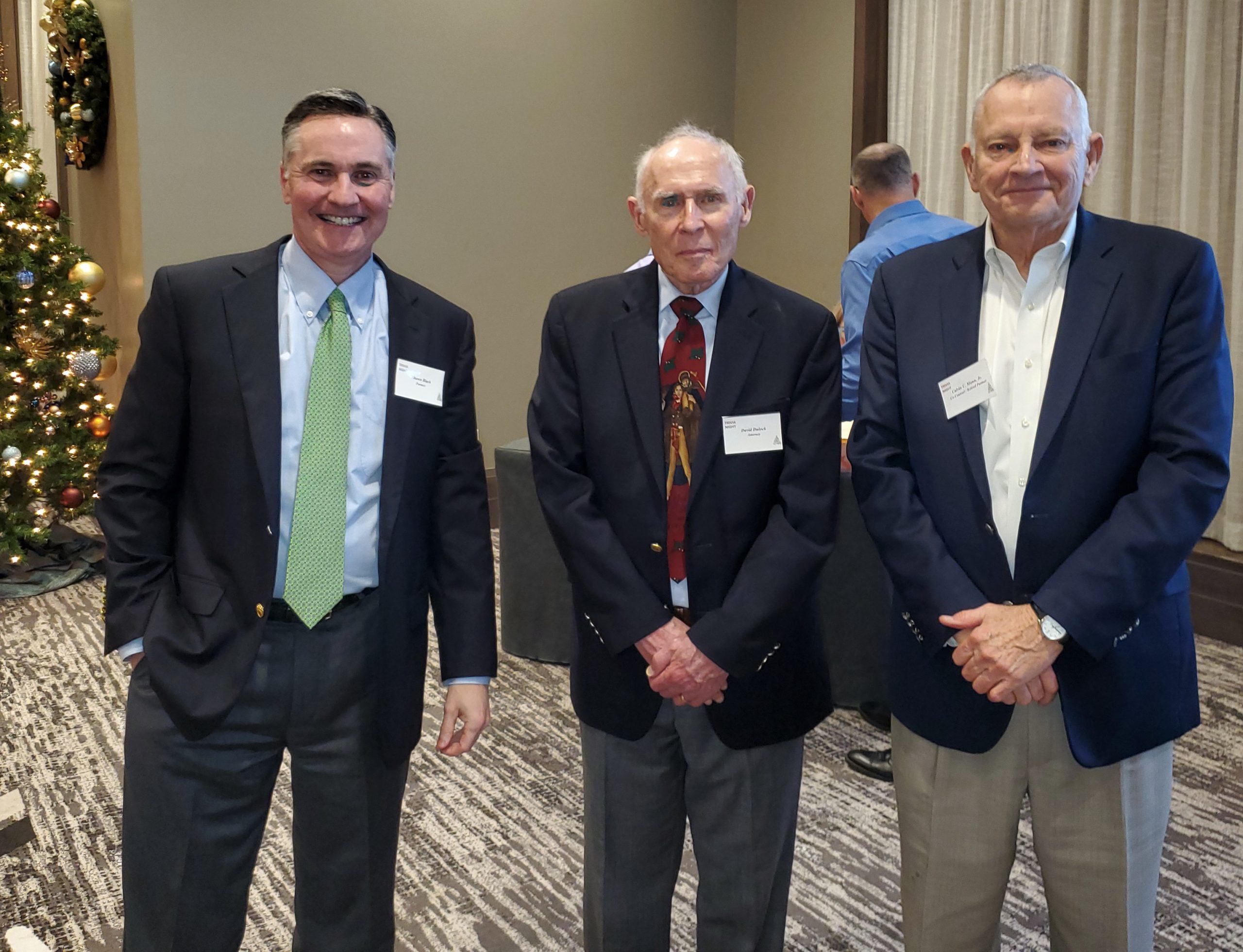 Pictured Left to Right: Shawn Black, David Dulock, and Calvin Mann
---
Up next: Best Practices: Updated BMG Texas Home Equity Manual