BM&G Houston-based attorney Nick Stevens first learned about BM&G on a flight from Dallas to LA. Sitting next to one of our clients, Nick mentioned that he had recently finished clerking under the general counsel of a geotechnical construction company as part of his law school experience at Texas Tech and would soon be looking for a permanent job in regulatory compliance.
His airline seat partner recommended that he contact Tom Black at BM&G, and a lunch soon after with Tom led to a clerkship in the Flower Mound office. More recently, Nick took an opportunity to transfer to the Houston office where he works today with the staff and attorneys there to provide legal advice to clients. Outside the office, Nick enjoys the food scene in his new hometown, calling it a dynamic and eclectic place to live.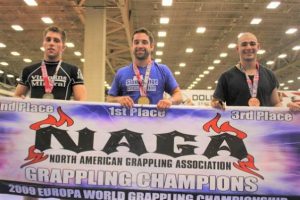 When he's not working Nick enjoys kickboxing and Brazilian jiu-jitsu, a sport he first saw watching action movies that showcased the martial arts. He's been practicing for over ten years now, and here's a photo of Nick on the left taking silver at the NAGA Europa World Grappling Championship in Dallas. Nick says the sport helps release stress and practice discipline, which translates nicely to life and the workplace. Nick also is an ardent snowboarder despite being hundreds of miles from the nearest mountain.
We hope you'll have a chance to work with Nick if you haven't already!