Houston operations manager Robin Lyons can tell you what she'll be doing before every Houston Texans' home game this season: dishing out great tailgate food and hospitality. She and husband Tim are part of the crew of the award-winning Battle Red Wagon Tailgaters. Even though each game's festivities require lots of planning and hard work, Robin wouldn't trade the experience for anything else. She doesn't even mind lining up at the gate at 6:30 a.m. on game days to stake the group's claim to the best tailgate spot.
Each home game, 8-10 of the Lyons' fellow tailgate crew prep and cook for 150 or more fans. The menu lineup includes pulled pork, BBQ ribs, sausage, chicken wings, boudin, green beans and their famous cardiac potatoes featuring lots of butter and cream. If tailgaters are still hungry there's homemade cobbler for dessert. At the bar, Robin loves to serve her famous Robin's Punch, a secret libation that she says is a crowd favorite, and strawberry lemonade for those a little less adventurous.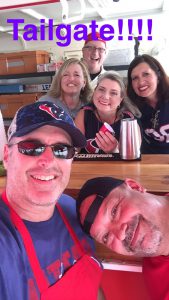 The Battle Red Wagon Tailgaters have received a number of accolades, including winning Tailgater of the year twice, and they've been featured on the Food Network and local TV. How do you get invited to the Battle Red Tailgaters tailgate? It helps to be a FOR (Friend of Robin), but the crew is known to spontaneously ask fans of the opposing team, as well as law enforcement and security detail, to get a plate of food.
Robin's Houston colleagues loved her stories about the tailgate so much that they asked her and her crew to put on a tailgate theme party for Christmas a few years ago. Want to follow along this season on the Battle Red Wagon Tailgater's Facebook page?  Click here.