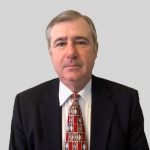 Black, Mann & Graham, LLP, an industry leader in preparing loan documents, regulatory compliance and loan fulfillment services, announced today it has hired Tony Florence as Director of Agency Relations & Regulatory Affairs. Most recently, Florence served as the Director of Mortgage Regulation for the Texas Department of Savings and Mortgage Lending (TDSML).
"We're thrilled to have such a well-respected veteran of our industry join our firm," said Co-Managing Partner Greg Graham. "Tony will advise clients on matters of regulatory supervision, and will serve as a knowledgeable resource for compliance and licensing issues for our clients. He will also represent our firm on panels and other forums at future conferences and gatherings."
Co-Managing Partner Shawn Black added, "Tony's reputation, personality and commitment to customer service make him a perfect fit for our firm. His vast experience and expertise in compliance and licensing will be an invaluable resource to help our clients navigate through these areas."
Florence retired from the Texas Department of Savings & Mortgage Lending in March after a 17-year tenure. Prior to joining the department in 2003, Florence served as the Vice President of Olympus Servicing where he managed the loan resolution department for the residential mortgage loan servicer. He has 37 years of experience in the financial arena, including loan origination, loan workout and loan servicing functions with a variety of companies.
While with the state, Florence served on the boards of the American Association of Residential Mortgage Regulators, State Regulatory Registry Mortgage Testing & Education Board, and the State Regulatory Registry Board of Managers. He is a graduate of the University of Texas system with a Bachelor's Degree in Marketing/Finance.
"I'm excited about my new role with Black, Mann & Graham," said Florence. "The firm has always been willing to assist the TDSML when requested, and maintains an impeccable reputation within the industry. I look forward to bringing my industry expertise to assist Team BMG in providing great representation to its clients."